Your Neighborhood
Orthodontist
"We left behind a successful practice and our hometown to pursue a vision. We wanted to create something special and do it somewhere special. It wasn't an accident that we landed in Middle Tennessee. Our dream was to offer families like ours a different kind of choice for orthodontic care. We wanted to provide a meaningful service to friends and neighbors who value family and community the way that we do. Because we see our patients at our kids' schools, church, sporting events and the grocery store, and it matters to us that we take great care of them." - Dr. Wes Chladny
His Why
"Fixing teeth is what I do. But helping people — especially kids — find their confidence and spark that's always been there, is why I do it," he says.
Dr. Wes is a parent too. He understands the challenge of booking appointments around family life, getting honest answers, and finding a doctor who genuinely cares about the person in front of him.
It's why Dr. Wes chose to open a small, patient-focused, easily-accessible office in his neighborhood.
His Education
His Co-Pilot

A welcoming, smooth-running office is no accident. Meet April Chladny, Dr. Wes' better half, and the first person you will likely meet when call or visit the office. She's a remarkable mom, friend, and detail wrangler. April and Dr. Wes met in college, and the stars instantly aligned (ouch — ortho puns are sooo hard to resist!)
Leaving behind the hustle of a large practice to design a family-first life has been the best decision they've ever made, says April. "We fell in love with Middle Tennessee a long time ago — the people, the values, the gorgeous landscapes. We always imagined our kids growing up here. Now it feels like we're finally home."
What does April think you'll love most about Dr. Wes?
"He is really out to do what is best for patients. You can count on him to listen and give honest recommendations, even if that means you don't need braces. He is a perfectionist, so details really matter, which is also what makes him a great orthodontist. His demeanor is cool and calm, but underneath, the wheels are always turning. Watching him work is like watching an artist."
His biggest secret?
"He doesn't like to read and he doesn't like milk — go figure!" laughs April.
His MVPs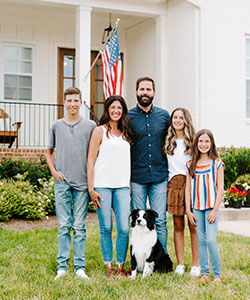 Meet the real rock stars of the Chladny crew. Reagan loves music and trying to beat her Dad at golf. Will is a natural athlete. He likes to spend time on the baseball field, with friends, and walks to the beat of his own, amazing drum. Faith, the youngest, is a human firefly. She enjoys cheerleading, and spreads joy like confetti wherever she goes. Oh, and the office mascot, miniature Australian shepherd, Chief.
His Life
The Chladny's happily reside in Thompson's Station. And, while Dr. Wes shapes teeth by day, he spends his off-hours shaping his family life. When the white coat comes off, the baseball hat, t-shirt, and jeans go on. You can usually find him at his kids' sporting events or in the yard, helping them practice. Otherwise, he enjoys moving heavy stuff on a little patch of "figurin' it out" land he has in the country.
"Because everything makes more sense," he says, "when you're driving a Bobcat, moving dirt, and listening to Eric Church."